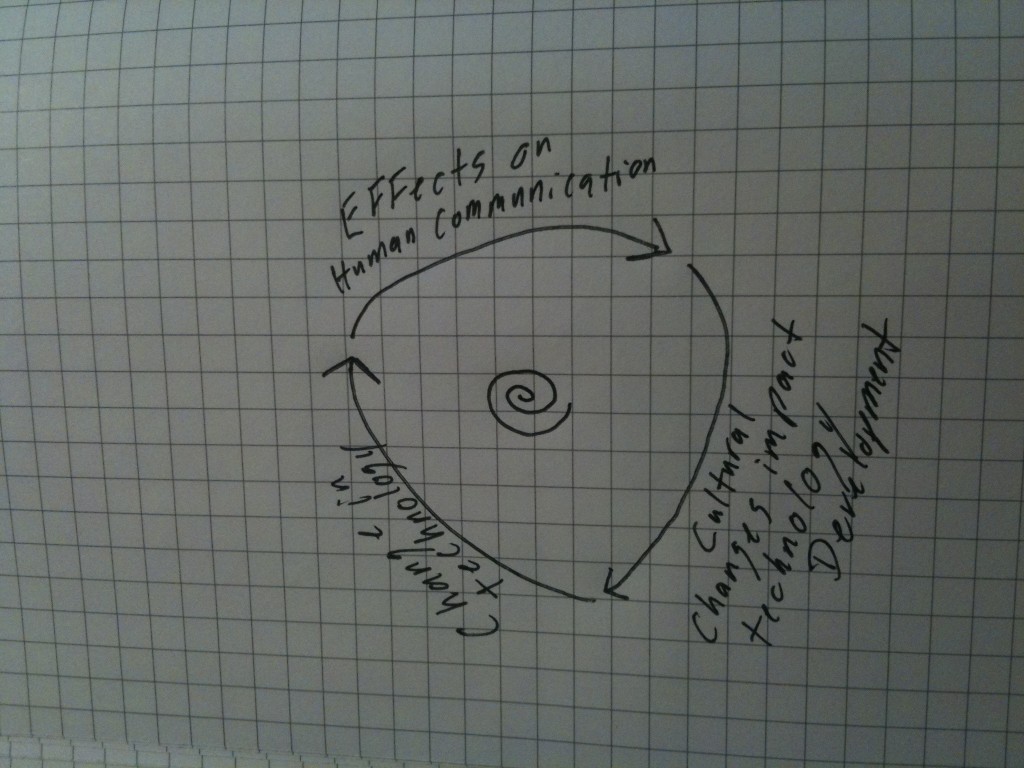 Every year I (like most people) look ahead and ask myself, "What do I want to be when I grow up?" (Okay, actually I ask myself that every few months.) This year I feel that it's time for me (to begin) to pivot again slightly. @jhouston89 & @melissawz keep telling me I have to keep one foot in the Now and one foot in the Future. Well the Future is now the Now and it's time to adjust my footing in order to keep one foot in the Future.
Changes in technology effects the way we communicate which effects our culture and those cultural changes effect further changes in technology. This is the space I love. Up until now it's been called social media but we are finally getting to a place where the term is (slowly) dying and it's just the way things are now. One New Years resolution I have is to start using the term social media much less.
But just because social media has jumped the shark, don't think that the change is over. It's just getting started. Social media has a lot of change to go through but it is no longer the epicenter of disruption and chaos. The storm is moving on and that's where I want to be. It's going to be chaotic and messy and that's right where you'll find me this next year; in the eye of the storm.
The rate at which technology continues to change is not showing any signs of slowing down. Those changes will continue to have huge effects on the way we communicate. Think about the last few years and the changes we've seen in business, government and education. This is just the beginning. And all of these changes are going to continue to effect the why and how of technology development. Political regulation is just starting to address the changes social media has brought and we're all still trying to figure out how much privacy we're comfortable giving up.
For me this last year was all about process, scale and standardization in social media. For the industry this trend will only continue and rapidly accelerate in 2011. But this is where I turn to more rational, process oriented people to carry that torch. I'll still be involved and have an opinion of course but my strengths lie in looking over the next mountain. What is the new center of chaos? Well here's some hints:
Like I said earlier: The single most mind blowing fact for me is that less than 30% of the Worlds population is online.
Mobile and cloud computing are just getting started and in 5 years will look very little like they do today.
The US is no longer the sole power in the World, in fact I would say that no country is. The People are the new powerhouse and they/we don't just care about maximizing profits (although it's not out of the picture).
Despite staggering unemployment rates everywhere, World leaders all agree that there is a major talent shortage in every country even though there has never been a more well educated global workforce.
College is the single fastest rising cost over the last few decades, even more than housing and has replaced credit card debt as the largest form of debt. And the above point shows it's not working.
Technology is going to impact all of these areas in ways we can't yet foresee or predict. I'm really excited.
Don't worry, social media is still a huge part of the equation and a big part of what I'll be doing this year. And as always Marketing Communications and the world of Business is still where I'll be applying the practical application of all of this so while I may sound like things be radically different it's probably far more evolutionary and less revolutionary than I'd like.  I have a lot of really big plans this year personally and professionally and I'll let you know as soon as the pieces start to fall together, but I'm very excited about them so stay tuned.

Similar Posts:
# of Comments 8

# of Comments 5

# of Comments 9
Scridb filter