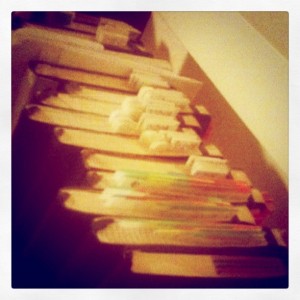 I've been using some sort of a notebook or paper planner most of my life. For the last 6 years I've been a very dedicated Moleskine user. I try other notebooks but I keep coming back to the Moleskine.
Maybe it's just self validation but I absolutely believe there is a direct correlation between ones ability to think big thoughts and writing in a notebook. There's plenty of historical evidence to back me up here: The Pocket Notebooks of 20 Famous Men.
Two years ago I wrote about how I hack the Getting Things Done


(GTD) methodology and Moleskine notebooks to best suit my needs. For the last two years that post has consistently been one of my top 10 posts. So after 2 years and some tweaking to my system I felt it was time to finally update you on my methodology.
If you're interested in the office supplies I use (because who doesn't love office supply prOn?), I have built out a list on Amazon of supplies I use: GTD Moleskine Hacking Supplies

.
GTD Moleskine Hack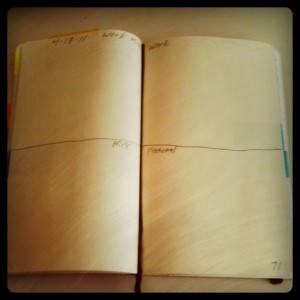 The first part of my system begins with my weekly tasks page. This is the big rocks I have to get done this week.
The two pages are each divided in half, creating four section: Work, Work Misc., Personal and Misc. Work is client work, Work Misc. is usually internal projects or other work related activities. Personal and Misc. are pretty self explanatory.
They're not in any chronological order, I just copy over any tasks from the previous week that carry over and as the week progresses I write any tasks that develop back over into the appropriate section.
This provides me with a week at a glance view of everything I have going on and everything I need to do for the week.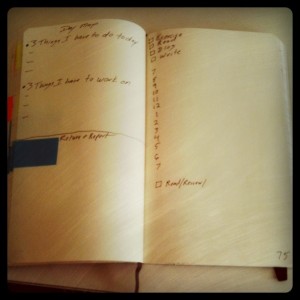 The second part of my new GTD Hack is the biggest change I've made and, for me, the most important part of the system. I call these 2 pages my "Day Map."
On the left page I've divided the page into two parts. The top of the page consists of two headings:
The 3 Things I Have to do
The 3 Things I Have to Work On
Both pretty self explanatory but I've found these little tasks to be really important for me. One of the key tenants of GTD is that you don't create a bunch of to-do lists that never get done. But for me the 3 things is a good balance of "If nothing else I have to do these 3 things" and "My to-do list is way to long, I'll never get anything done."
The bottom of this page is also really, really important it's my "Return and Report" section. At the end of each day I sit down with myself and ask how the day went. What went well, what could have gone better and what got in my way, and most importantly, how am I going to do better tomorrow.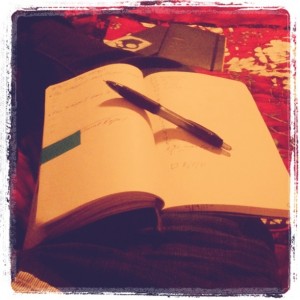 The right hand page is my day at a glance. I have four boxes for the things I want to do every morning (but don't always get to), Exercise, Read, Blog & Write. I check these boxes off, when I do them and write notes next to them as to what I actually did. Then I have time slots to for each hour of my day. This is less about day planning and more about time capture. What did I spend my day doing. I'll often make notes throughout the day. I end the page with another box for end of day planning.
I then use different colored flags to denote tasks, reference items, and good ideas - things I'll want to come back to later.
The rest of my notebook is filled with notes I take all day long. Each meeting I'm in I write something down about it. Who was there, action items assigned to me or my team, key take-a-ways, random thoughts, etc. I also make sure to take a few minutes each day to write down the various thoughts floating around my head.
My Promise To You
I can't overestimate this enough; We live in a state of constant over stimulation. Your brain is always coming up with ideas. If you don't have an outlet for those ideas while they're still in early development, your brain will struggle to save the goods ones and get rid of the bad ones, freeing it up to work on more good ones.
If you don't use a notebook at all but are struggling with personal organization or coming up with better ideas I promise that the very act of writing down your daily activities and thoughts will make you more productive and creative. You'll get more done and you'll have better ideas. You don't have to use my system or any system really but just write it down. Figure out what works for you. If it doesn't work shoot me an email [email protected] and we'll talk about it.

Similar Posts:
# of Comments 19

# of Comments 6

# of Comments 24
Scridb filter