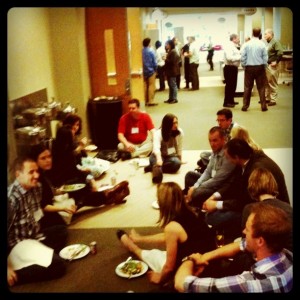 I love going to conferences…for the most part. Every time I get ready to go to a conference, I start second guessing my decision. I've gone to a lot of social media conferences. Not as many as some people, but more than most people.I know I won't learn as much as I used to. But I always know I'll learn something.
I always question if it will be worth my time away from work when there's always something I'm supposed to be working on. But work will always be there and I know that you have to prioritize getting out and meeting people.
The hardest trade-off to make is how much time away from my family to take.  That's part of why the last month was so nice, because all the conferences I went to were in Seattle or just a day trip down to Portland.
Chocolate and bacon are a wonderful, non-obvious combination. And as silly as it seems, meeting your online networks in an offline networking opportunity is (sadly) an equally non-obvious but truly wonderful combination.
After the last conference both @LizaSperling and @grmeyer, wrote very similar posts about the importance of getting out to conferences.
Liza asks how did we get here:
Sara Lingafelter answered how she went from being a divorce attorney to driving social media at REI in three words: I said yes. Sara nailed it. Most of us got here by saying yes. Over and over and over.
Put another way, we got here by showing up. The only secret to social media is that most of the good stuff happens offline. Like sharing ideas over lunch, as shown in the photo taken by Tac Anderson.
Greg writes about setting a goal to connect the online with the offline:
On Friday, I attended the SM301 conference, and couldn't help overhearing, over and over again, "I think we've met – I recognize you from your Twitter picture!" and "it's great to finally put a name to a face and not just a Twitter handle." I made connections in person (finally) with Liza Sperling and Rod Brooks, caught up with Tac Anderson before he disappears to London for two years (sniff), and realized that the brilliance of social media is that it allows you to connect with people you might never have known – and that the true value doesn't reveal itself until you also actually connect offline with those people.
I'd like to thank all the great people I met over the last 4 events. And even more than that I'd like to thank all the great people I've met in the PacNW. Starting off in Boise and then moving to Seattle has given my personal network a decidedly North West feel, and that's a good thing. But I'm now looking forward to getting over the pond to the UK and the rest of Europe to make some much needed offline connections to the online ones I already have.
In case you missed my presentations, you can see all of my post presentation posts, for the 3 I spoke at, here:
Social Media Breakfast Portland:  Scaling the Social Media Strategist: The Presentation
WebVisions: How to Build a Community Around Your Company that Won't Turn on You: The Presentation
Social Media 301: I Tweet Therefore I Yam
If you need some tips on how to pack for a conference: A Geeks Guide to Conference Going Gear
And just for fun: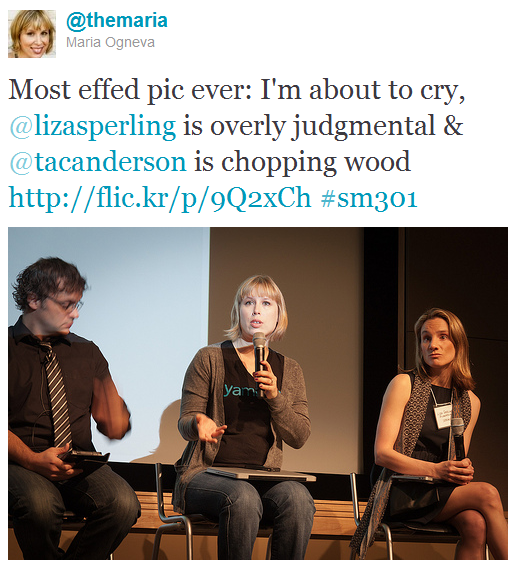 Similar Posts:
# of Comments 5

# of Comments 5

# of Comments 7
Scridb filter