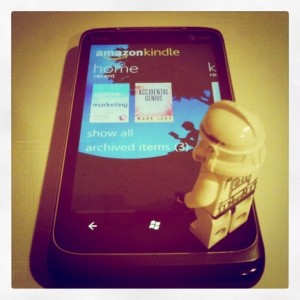 In the news today, Borders is closing all remaining stores. It was unavoidable that a few of the big bookstores were doomed. But even Borders larger competitor, Barnes and Noble is struggling. Both have launched eReaders to challenge the Kindle. B&N's Nook is doing better than the Borders backed Kobo (which still lives on).
The writing was on the wall but eReaders alone couldn't save Borders and it might not be enough to save B&N. It's the same old story we've seen with every disruptive technology. Borders is a classic boiling frog problem. The Internet blew up once and book sales were fine. It would have been too easy to become passive and expect that physical books were timeless or that at least there was time to change. There wasn't.
This got me thinking. What would I have done different if it was my call. And as I pondered, I wondered what would YOU do? It's easy to criticize the big guys for not changing fast enough. What if you were sitting at B&N right now and you had to decide what to do? Or Waterstones here in the UK.
My plan when coming to the UK was to completely switch to digital books. Turns out there were a few flaws in my plan. But it's still inevitable. If I weren't such a snob and just read popular fiction I'd be fine. I could stick to the NYT best seller list and never miss physical books again.
But my favorite example from this weekend was Goldsboro Books (@goldsborobooks). From Saturday's post:
I've said it before that I still love hard back books and if it's an author I like I prefer to have first editions. This is why I love Goldsboro's business modem and think they'll be around a long long time. I know I will be a regular customer. It could become dangerous, actually. Just watching them wrap the dust jacket of your book in plastic before giving it to you was almost worth the price of the book.
I love this business model. But this strategy only works for small local bookstores located in major cities like London. What about the big guys? They can't all rely on digital, they can't all rely on high value hard covers. What else could they do?
Here were a thoughts I had that have various levels of plausibility.
Go for all things physical and sell books, music, comic books, DVD's. But and sell used as well. (This is basically what Hastings is doing.)
Bring in the people with art classes and writing workshops. This would rely heavily on local store managers to set up.
Push hard for Print On Demand. The biggest problem with physical book stores is when they don't have the books you want. POD could help solve this and let you tap into indie authors as well. Would require heavy negotiations with the publishers.
Screw books and start selling anything you might be able to read a book on, including PC's, phones, iPads, etc.
Screw the publishers and start publishing indie authors. Each location could champion their local authors.
These were a few ideas I had off the top of my head. What would you do?
Similar Posts:
# of Comments 20

# of Comments 0

# of Comments 0
Scridb filter