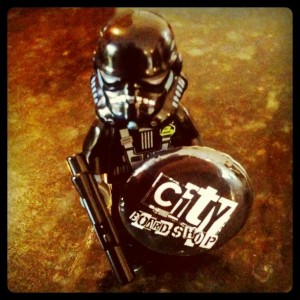 With all the news about buttons I thought it was time to do another 10 Links post.
Buttons (as well as stickers and patches) have been a core marketing tool for decades, possibly centuries. Political buttons are one of the most well known early implementation of button marketing. When I owned the skateboard shop in Vegas, buttons were some of the most valuable and cost effective marketing tools in my arsenal.
Buttons show community. They are a way to mark yourself as a member of a certain tribe. In a very real way it's the same as marking your interests on Facebook or other online profiles.
In today's world of perpetual social media buttons are a brand new tool in the arsenal of social networks. Content is the currency in today's economy and the easier networks like Facebook, Twitter, Google, LinkedIn, Digg, Reddit, etc., etc., can make it for us to share content, the better it is for them and their marketing customers.
As a publisher buttons are invaluable as a way to make you content shareable, raise awareness, drive engagement and ultimately increase visits and regular readers.
I think most everyone reading this will agree that content is a very valuable social currency. That makes buttons the point of transaction. It's the point where I say, "Yes I associate myself with this piece of content." This somehow defines me because I find this interesting or I agree or disagree with it.
Don't think buttons are a very big deal? Read on:
1- Technolog: More buttons for you to click, courtesy of Google, Twitter
Social networking sites are starting to have more buttons than a winter coat. Facebook, known for its "like" button which can be found on many, many websites, has more competition in the button space: Twitter is adding a "Follow" button and LinkedIn has added "share" buttons. And, the 800-pound gorilla in the room, Google — no friend of Facebook's — is adding a "+1 button," starting today.
2 - Lost Remote: Publishers besieged by onslaught of social buttons
| | |
| --- | --- |
| Button | ROI |
| | |
| Facebook "like" | Average publisher seeing "300 percent increase in referrals" |
| Facebook "send" | An easier way to share stories with friends than email |
| Tweet button | Encourages users to tweet your content, increasing referrals, buzz |
| Twitter follow | Drive up followers on accounts with one-click follows |
| Google +1 | Increases Google SEO of pages |
| LinkedIn share | Gets stories on LinkedIn (and LinkedIn/today), increasing referrals |
| Tumblr share | Encourages users to share on Tumblr, increasing referrals, buzz |
| Stumble button | Boosts prominence in StumbleUpon's index, increasing referrals |
| Digg button | Increases prominence in Digg, increasing potential for referrals |
| Reddit share | Pumps up stories on Reddit, increasing potential for referrals |
3 - Twitter Blog: Introducing the Follow Button
When you follow interesting accounts on Twitter, it's easy to stay connected with what's most meaningful to you. Today we're excited to launch the Follow Button, a new way to discover and instantly follow Twitter accounts directly from the websites you visit everyday.
4 - Official Google Blog: The +1 button for websites: recommend content across the web
Since we started rolling out the +1 button in March, you've been able to recommend content to your friends and contacts directly from Google search results and ads.
But sometimes you want to +1 a page while you're on it. After all, how do you know you want to suggest that recipe for chocolate flan if you haven't tried it out yet?
5 - GigaOm: Exclusive: LinkedIn to Launch Job Application Tool
LinkedIn is preparing to launch a plug-in for employers' websites called "Apply With LinkedIn" that will allow job candidates to apply for available positions using their LinkedIn profiles as resumes. The feature indicates LinkedIn's increasing focus on making money by facilitating employee recruitment and hiring.
6 - ClickZ: Twitter Debuts Follow Button for Publisher Sites
Twitter has brought 55 partners, many notable, to launch. They include names like AOL.com, Britney Spears, Fox Sports, Justin Bieber, The Wall Street Journal, Vanity Fair, Yahoo Local, Wired, Jennifer Lopez (pictured), Lady Gaga, and Sports Illustrated.
While brands like Delta, Ford, Zappos, and Virgin America have shown a dedication to Twitter marketing and customer service, follower numbers for most companies drastically trail their Facebook audiences.
7 - Search Engine Watch: Analytics Tips for Setting up Google +1
Google is letting people add +1 buttons to their own sites. Webmasters can get all the info on the code by visiting Google's +1 button code generator page. The code is straightforward for nearly all Webmasters, comprising a JavaScript include for your "head" and a matched set of tags where your want the +1 button to appear in your document body.
8 - TechCrunch: Twitter Follows The Tweet Button With A Follow Button, Sort Of Like Their Like Button
Twitter has just unveiled the Follow Button. This follows their Tweet Button which is already in use on thousands of websites across the web. While the Tweet Button was great for sharing individual pieces of content, the Follow Button is meant to establish more social connections on the service. In this regard, it's sort of like the Facebook Like Button, which people place on their websites to get other Facebook users to tie themselves to brands remotely. Of course, the Like Button also acts a bit like the Tweet Button as well (that is, you can share individual pieces of content from it too).
9 - HubSpot: Google Introduces +1 Button for Websites
Think of it as a Facebook "Like" button for the web. With the Facebook Like button, when a user Likes something via the button on a website, it shows up in their Facebook friends' news feeds. Similarly, when a Google user clicks the +1 button on a web page or article, their connections will see their +1's within their search results. This enables users to easily view recommendations from their connections where they're most useful — in search results.
The only catch is that users must be signed into their Google Account in order to view +1 recommendations in search results, and web users must have a public Google Profile in order to +1 things. The first time you +1 something, Google will confront you with a confirmation screen.
10 - TechCrunch: Now +1 Gets Interesting: Button Launches On YouTube, Android Market, Best Buy… Oh, And TechCrunch
What's interesting about this announcement is that +1 could eventually alter search results (if you are logged out). So the more +1?s a piece of content or product has, the higher the search result for that page. It would be another signal social data is a key strategy for Google going forward and we heard back in March, that Google envisions +1 data influencing search results across the board. With more publishers and ecommerce sites signed up, Google has way more social data to possibly use in search.
Similar Posts:
# of Comments 6

# of Comments 2

# of Comments 0
Scridb filter