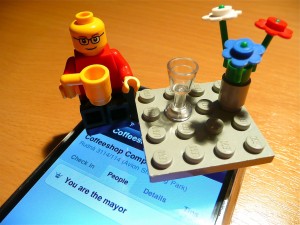 I am incredibly fascinated by Location Based Services. Both because I used to own a skateboard shop and sympathize with the blight of the brick and mortar small business owner but geo-local also ties into my fascination with studying human behavior. It's a digital anthropologists dream.
I first started using Brightkite 2 1/2 years ago. You can read my first post where I talked about it. I'm annoyingly active on Foursquare but you probably don't know it because I don't push my updates out. That'd be really annoying. I was the 24,999 user and am a Super User: Level 1 (that sounds soooo geeky). Basically I've achieved the level where I can edit locations and report fake spots.

If you follow me on Twitter you've probably already noticed that I've been writing on a new blog. Checkin Addict.
Subscribe to the blog. Follow us on Twitter. Like us on Facebook.
What you'll find? News and reviews about just about any service or app that you can "checkin" on. The site's still not 100% built out yet. We still have a few pages, plugins and stuff to tweak.
Who's this "we" you speak of? Tyler Schnaidt: Blog, Twitter. Tyler is a co-worker of mine. He knows his stuff on social media. He was one of the first members of Best Buys Blue Shirt Nation. And he's a cool guy. Plus we're always looking for contributing writers. It's a rapidly growing field and I don't know how long two guys with full time jobs can keep up with it all.
Why another blog? I love strategy. I love the high level posts I write here. That won't change. But I needed another outlet for my ADD. Also really like to get my hands dirty. I don't write a lot about developments in the tech World. But I noticed a lack of niche blogs around LBS and checkin services like GetGlue. So I saw this as an opportunity to start a fresh blog. Something hopefully useful for those of us with an addiction and something a little more light and fun.
I also made the decision a long time ago not to monitize this blog. That may change someday but for now I think it's the right decision. The main intent of Checkin Addict is not necessarily making money but I'm definitely planning on making a little off it and running ads and affiliate links to apps lets me hone some skills I haven't flexed in a while.
So if you're addicted to LBS, geoloco, badges, gaming mechanics and the checkin, I'll see you over there.
Similar Posts:
# of Comments 4

# of Comments 7

# of Comments 2
Scridb filter